About Nama
Meet the Team
We all value our health and have realized the importance of incorporating more fruits and vegetables into our diet. We hope to share this enthusiasm with you!
Dan
Favorite Juice Recipe?
Vancouver Island Green

How do you stay active?
Hiking, walking, resistance training

Why is juicing important to you?
I juice for my family, in order to feel better overall, have more energy and add more vital nutrients to my diet.
Nicole
Nicole
Marketing and Support
Favorite Juice Recipe?
Sunshine State of Mind

How do you stay active?
I take a class two or three times a week, usually something new from boxing to pilates to keep it interesting! If I don't have time I'll run on the treadmill for 30 minutes to get my heart pumping.

Why is juicing important to you?
My immune system has always been bad. As a kid, my parents never took me anywhere because I would be sick. Without fail I used to catch a heavy fever twice a year and will be ill for at least a week. After juicing my fevers never came back again, and also no more colds during flu season. The abundance of micronutrients in drinking juice keeps my immune system strong and healthy. Not only that, but it's also been amazing for clearing my skin!
Eric
Favorite Juice Recipe?
Joe's Mean Green

How do you stay active?
Muay Thai, surfing, biking, hiking, chasing after my 1 year old daughter

Why is juicing important to you?
Juicing has made a huge positive impact on the health of my entire family, including my daughter as the next generation. I am grateful that my work is dedicated to something I am so passionate about.
Jen
Favorite Juice Recipe?
Nama Immunity Tea

How do you stay active?
Morning yoga, Biking, Snowboard, take the Stairs (live on the 3rd floor)

Why is juicing important to you?
Juicing has allowed me to intuitively reset my body and listen within to my baseline. I love that I can take in more nutrients, cut down chronic inflammation, and support my body. I slowly started eating better a decade ago to help ease migraines and headaches and realized all the amazing other benefits from increased energy to better sleep. I've worked with thousands of people who have juiced through Joe Cross and hands down it's been one of the best things to watch people's lives transform. This juicer is a game changer! It's why I joined the team to help more people find a connection with their heath and take it one step at a time.
Tim
Tim
Operations and Support
Favorite Juice Recipe?
My favorite juice recipe is Joe's Mean Green with a twist. I typically add extra leafy greens about 2-3 bunches (kale, spinach, chard, arugula), parsley, lots of extra ginger and/or turmeric.

How do you stay active?
I enjoy the outdoors with my wife and dog, walking and hiking on fun adventures. I love playing golf, basketball and other sporting activities.

Why is juicing important to you?
Juicing to me is a symbol of good health and I love the flavors of mother nature and how they make me feel after drinking them. I cannot go a couple of days without juice because my body craves the micronutrients and flavors. Over 7 years ago, I started incorporating 3 and 5 day juice fasts a few times a year to help my body reset by letting my digestive system rest, while flooding my body with vitamins, minerals, and phytonutrients. Juicing has become a part of my routine for me and my family, and adding at least 1 juice to our diet everyday has helped us to maintain a healthier lifestyle.
Leslie
Leslie
Content and Design
Favorite Juice Recipe?
I love hydrating easy to drink green juices… the Restorative Green or the Healing Green are delicious and have lovely healing properties. I tend to add less of the sweet fruits than the recipes call for and add more cucumber or I top up with filtered water.

How do you stay active?
I take long walks everyday. I use the time to catch up on podcasts or I drag my husband along so we can chat.

Why is juicing important to you?
Juicing makes me feel better. I think the combination of flooding my body with diverse micronutrients and getting really hydrated is key to my health. I have been juicing for over thirteen years now and it is a key part of my daily self care routine.
Cooper
Favorite Juice Recipe?
Joe's Mean Green. I go off the recipe book on this, so it's my own custom juice.
1 cucumber
2 handfuls of romaine or spinach
1 lemom
2 mint stems stalks with leaves
1 inch ginger
How do you stay active?
I pick up heavy things and put them down. I also have an unhealthy obsession with the stair master.

Why is juicing important to you?
Because of the way it makes me feel. No matter how hard I fall off the wagon, a big ol glass of green juice picks me right back up. It's also a reminder to not take your health granted.
Gretchen
Favorite Juice Recipe?
My own concoction called "Pear Fennel Delight". 2 Pears, 1 Fennel Bulb, ¼-½ grapefruit and a little ginger for a kick. I like it because I can increase or decrease certain elements depending on the season or my mood. It has such a complex flavor profile and I am in love with fennel.

How do you stay active?
Walking my 2 dogs, swimming, hiking, biking, yoga, and getting into rebounding to shake things up!

Why is juicing important to you?
It is a great way to incorporate seasonal energies and nutrients that your body requires - nature knows best! I started to get into gardening recently and it is so fun to grow and appreciate your own food. The less time the food is sitting around the more prana it has, and to experience that first hand is such a gift.
Joseph
Favorite Juice Recipe?
Vancouver Island Green with a slight twist — I like adding extra lemon for more zest. For those days when I need a treat, I enjoy making triple berry sorbet.

How do you stay active?
I'm 100% dependent on my bike for transportation. I bike around regularly and often go on 25-mile rides just for fun. I think biking gives anyone a unique perspective on the city around them.

Why is juicing important to you?
So I can continue growing and expanding my flavor profile to eat and drink healthier. I'm somewhat new to juicing, so I still have so much to learn and explore in this journey. My fiancée and I enjoy trying new juice contraptions on weekends and preparing big batches for the week ahead.
Elsa
Favorite Juice Recipe?
The Mean Spicy Green Juice: — This recipe is inspired by Joe's mean green recipe. However, I added the pineapple, jalapeno, cilantro, spinach, cucumber, and lime to the original recipe. I call 
it "The Mean Spicey Green Juice".

How do you stay active?
I love yoga because it is a total body, mind, and spirit workout.

Why is juicing important to you?
Drinking fresh juice from fruits and vegetables has provided a variety of vitamins and minerals to my body which helps cleanse toxins that build up from stress and anxiety. Juicing helps me maintain a sharp mindset and improves my overall mental health by providing vital vitamins and minerals which boost my immune system. Drinking fresh juice for the last ten years has dramatically increased my quality of life. For me, juicing has been an effective way to maintain my desired weight by giving my body the natural vitamins and minerals it requires.
Ruud
Favorite Juice Recipe?
Joe's Mean Green

How do you stay active?
Bicycle ride with the family to the beach.

Why is juicing important to you?
It gives me energy and helps me to stay focused during the day!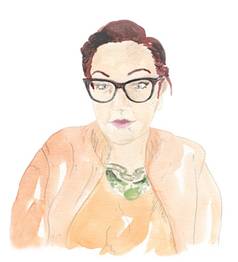 Erin
Favorite juice
Any juice with spice! I'm a big fan of adding extra ginger, jalapeño, and/or serranos to my juices for an added kick and boost of energy.

How do you stay active:
I love hiking! I once did a 130 mile solo hike in the Adirondacks, I've bushwhacked in the clay jungles of Central America and I've conquered all the peaks in the Pacific Northwest. Most recently though, I enjoy exploring new neighborhoods with my best friend, Buddy (my dog!).

Why is juicing important to you:
I grew up eating a lot of boxed, frozen and canned food so I never really developed a taste for fruits and veggies. In 2011 I saw the film Fat, Sick and Nearly Dead and was so inspired that I immediately went out and bought a second-hand juicer for $15 and began my juicing journey. Juicing is like having the cheat codes to a healthier lifestyle. It makes it so much easier for me to keep up with my wellness routine. I've seen every aspect of my life and health improve since I started juicing almost 10 years ago!
Nama Contributors
Joe Cross
Kristina Carrillo-Bucaram
Kayla Nielson
Cash Dillard
Jenna Davila
Sky Sommerfeld