Articles
Herbs for Juicing
Articles
Herbs for Juicing
Many juicing ingredients, especially herbs have been used for centuries for promoting health, supporting healing, and promoting well being. Here is a short list of some of our favorite kitchen herbs to add to your juice recipes or juice them alone to be taken in small shot size amounts. Some of these herbs are very powerful, please discuss with a qualified health care practitioner before consuming any, especially if pregnant.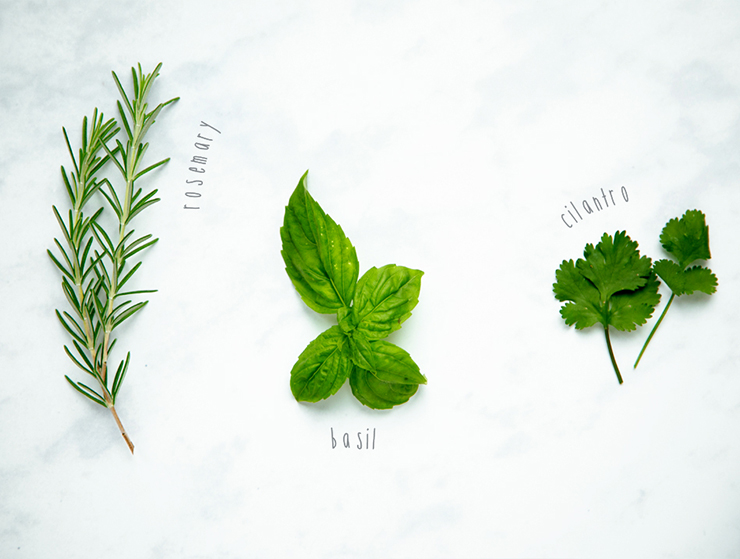 Rosemary: Use two to three sprigs per cup of juice, we usually remove the small green leaves from the woody stock and feed them through the juicer with lemon. Among many health supporting attributes, rosemary is an antioxidant and has anti-inflammatory properties.
Basil: Add 1/2 cup with leaves and stems to a 16 ounce juice recipe. Basil pairs nicely with cucumbers and romaine or with blueberries and apple. Basil is known as a digestive aid and also for its antibacterial properties.
Cilantro: With its distinct flavor, cilantro is known for its detoxifying properties. We like combining 1/2 cup of leaves and stems with tomatoes, lime and romaine for a savoury juice that packs the detox punch.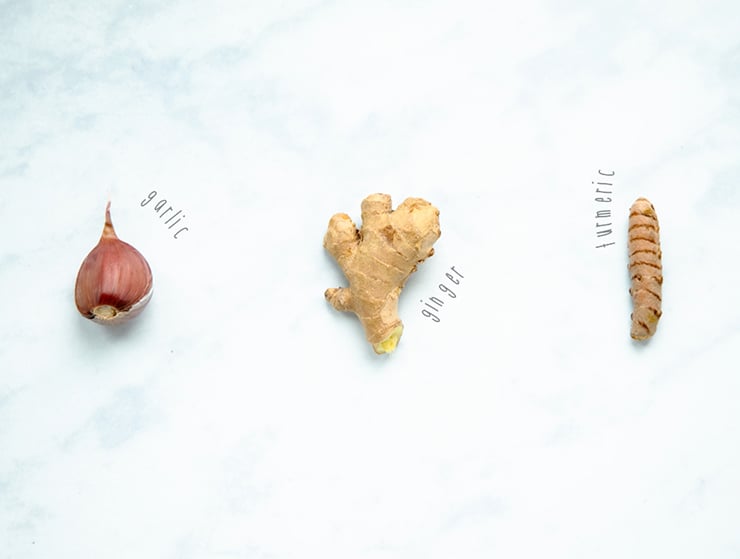 Garlic: Juice one or two cloves along with other vegetables for a savory addition to your juice recipes. We all know garlic is strong so you will want to give your juicer a good clean afterwards. The cleaning is a small price to pay for this truly incredible health supporting bulb. Garlic has been used and documented for nutrition for thousands of years. It is long known for its antibacterial and antimicrobial properties.
Ginger: A favorite, the root can be juiced alone and then added by the tablespoon to a cup of warm water and honey or combined with other juice recipes. Ginger is well known for its anti-nausea and anti-inflammatory properties along with many other health promoting actions.
Turmeric: Juice the whole root and add a teaspoon to a tablespoon to a cup of warm water or combined with a tablespoon of ginger juice and lemon juice as a shot. Follow with a cup of water. We also love using turmeric in our carrot, celery and lemon juice. Adding a pinch of pepper to turmeric juice is said to make it more bioavailable.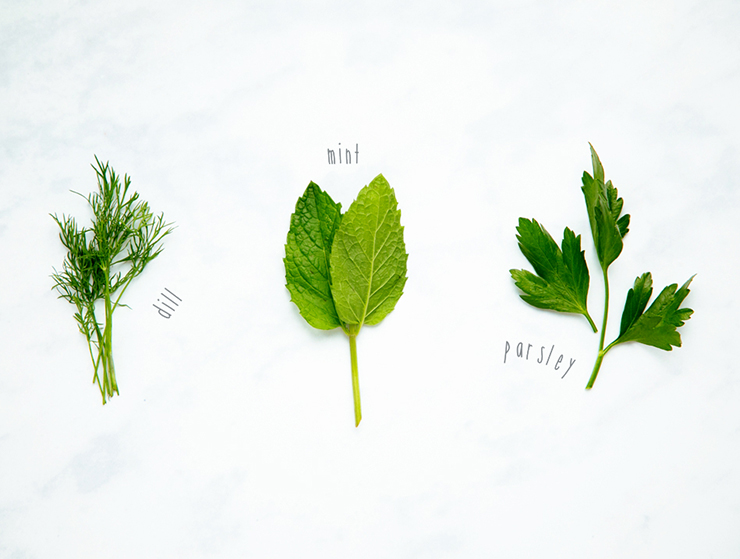 Dill: Add a small fresh amount of dill to your cucumber, fennel or lettuce juice. Dill is very delicate and spoils quickly so use it up quickly. The dill seeds can also be crushed and used to sprinkle on top of your veggie juices. One half a teaspoon is nice for a cup or two of juice. The strong flavor can take some time to get used to so strait out small and work in more. Dill has long been used for support in digestion and antimicrobial benefits.
Mint: We love adding a few leaves to our cucumber based juices as the mint is cooling and refreshing. It can also help some cabbage juice taste much better! Mint is known for its anti nausea and digestion support.
Parsley: Add 5 or 6 sprigs to your 16 ounce green juice recipes to increase vitamin C and antioxidants. Parsley has also been used for its digestive and diuretic support.
To read more about the powers of kitchen herbs check out these two amazing books where this information came from:
The Encyclopedia of Healing Foods by Michael Murray N.D.
The Juicing Bible by Pat Crocker
Choosing a selection results in a full page refresh.
Press the space key then arrow keys to make a selection.