Articles
Live Pure Jenna
Jenna Davila is the founder of LivePure, a plant-based health and wellness initiative to provide information and guidance for healthy, conscious living and body-soul nourishment. Jenna creatively captures the vibrancy of plants through her work and hopes to inspire others to create positive, self-generated changes through lifestyle choices. Her mission is to illuminate the vitality of living in harmony with the Earth and to help others find an authentic balance in all aspects of their lives.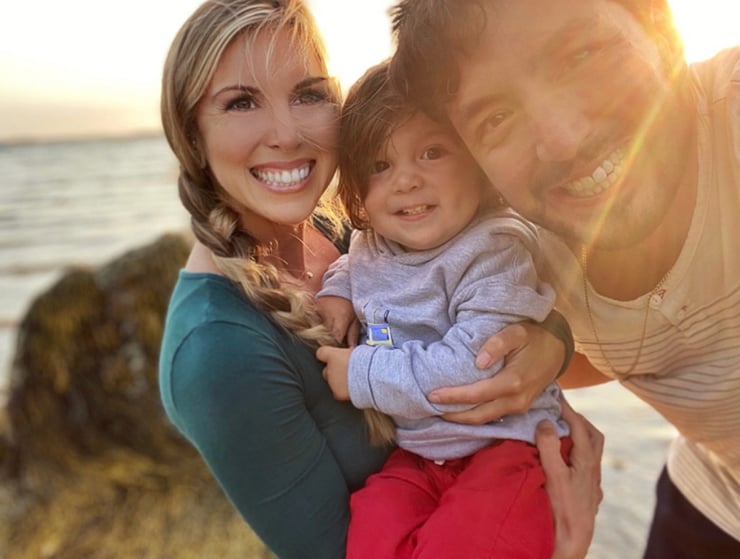 Family Photo: One of Jenna's main priorities is getting out and connecting to nature with her Family.
How has becoming a mom changed your opinion on being healthy?
Becoming a mom helped to reinforce the importance of healthy, plant-based habits I've learned over the years. My passion for health goes back to college, where I received a BA in Health and Exercise Science, and more recently becoming certified in Plant Based Nutrition. Starting a family has only strengthened my long passion for healthy practices. My opinion on the importance of healthy eating has only gotten stronger and I want to be able to sustain healthy lifestyle choices for my family as well. This includes everything from dietary, mental and physical health to emotional and spiritual well-being, which all play a role in our overall health. Being a mom makes me appreciate life so much more, especially when it comes to slowing down, being patient and going with the flow. It allows me to be at peace and cherish the present moment which is truly incredible for my mental health. I'm so grateful to raise my son with this knowledge because I wasn't. As a mom, it is my responsibility to nurture, nourish and set an example for my child and family.
What's important when it comes to health with your child?
Health is multifaceted. Proper nutrition, sleep, sunshine, nature, clean air and water, exercise, developmental play and activities infused with lots and lots of love all play a key role in my sons universal health and wellness. It's important to me that my child is getting a balanced amount of all these elements to help him live in harmony as proficient as he can.
What are some ways to help kids gain more interest in eating healthy?
I'm a firm believer in leading by example. If you're excited and passionate about something, that energy can be felt by the people around you. Children are like sponges, they love to imitate and naturally love to help and feel a part of something. Let them help in the kitchen by going through healthy cookbooks or websites to pick out recipes they'd like to eat. Let them help with the food shopping and pick out the fruits and vegetables at farmers markets or the grocery store so they can be more connected to the food they consume. Meal prepping, cooking and eating together as a family helps strengthen their desire for healthy eating. It's incredibly satisfying for kids to know that they helped pick out and make their meals. Help them connect the dots and understand why healthy eating plays a role in fueling their bodies and boosting their immune system. For younger children, just getting them familiar with healthy foods as soon as they start solids is key. The quicker you can start establishing healthy, consistent nutrition, the easier it becomes a habit. Your children only know what they are shown so health begins in the home. It's never too late to start!
How does juicing play a role in your health?
Juicing is a great way to get liquid nutrients to your cells. It's incredibly hydrating, nourishing and allows the body to flush out any metabolic toxins. To me, it's a great insurance policy to make sure I'm filling in any gaps. For example, maybe I didn't get a chance to eat as many greens as I would have liked to, juicing can be a quick and great solution to get my daily intake. I also just feel better, with better digestion and less bloating. Let's face it, drinking lots of water all the time can get boring so juicing is an excellent way to add more flavor in your life that comes with a lot of awesome health benefits.
| | |
| --- | --- |
| Taste testing green juice made out of romaine, kale, apples, celery and lemon! | Rainbow juice in the making! |
Why did you gravitate toward the Nama Juicer?
I was in the market for a new juicer and contacted several big name companies about what materials the juicer was made out of. The customer service team at Nama replied right away letting me know their juicer was bpa free and phthalate free. The more I looked into and researched Nama, the more I fell in love and was sold! The cold press technology is amazing and perfect for someone like me who juiced in big batches to keep my juices fresh up to 72 hours.
What's one feature on the Nama Juicer you can't live without?
The hopper design is the best! I love how Nama specially designed it to protect small hands of children when they juice. It takes out all the worry when juicing with your kids. I also love being able to make instant sorbets and nut milks with the variety of strainers that come with it.
What is your offering to people who want to become healthier?
When people have the drive to become healthier, my guidance would be to fill your home with as many whole plant based foods as their budget allows and to buy in bulk to save money. It's so much easier to maintain a healthy diet when you surround yourself WITH healthy food. It's so important to have a wide variety in your home to help you make smart choices to keep your body fueled and feeling your best! Food is your energy source so try to pay attention to the food you eat and how they make you feel. The more you do this, the better you can understand how your body communicates with you and what it truly needs.
What's one juice recipe that is your go to?
Pineapple-apple-mint-lime-ginger-kale! I also love making watermelon-lemon-ginger-beet juice.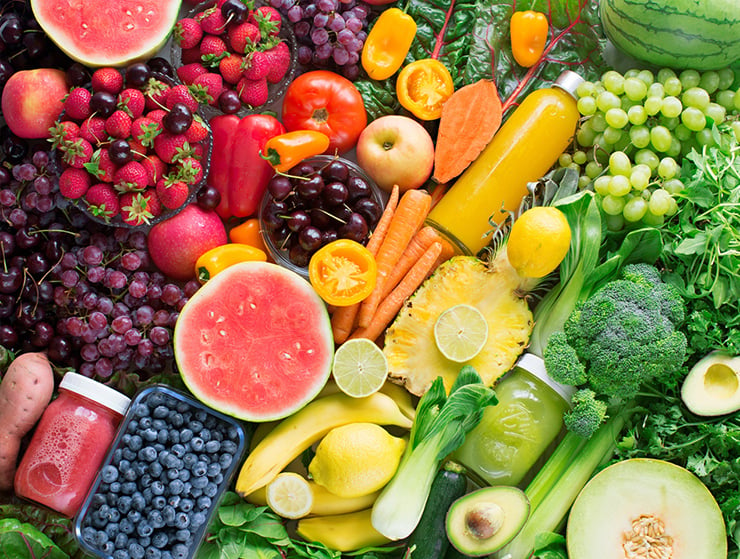 A colorful and wide variety of fruits, vegetables and juices made with Jenna's family food hauls
What's one piece of motivational advice you advise others on their path to health?
My advice would be to take it one day at a time. Slow and steady. Be gentle and patient with yourself, nothing has to be perfect. The most important thing is trying to do the best you possibly can within your circumstances. A great start is to always be present with your choices and learn from them.
Where can people check you out?
You can find me daily at Instagram.com/livepurejenna and visit my website at www.livepurejenna.co
What do you offer as a free resource on your platforms for people?
I have lots of delicious recipes on my website, so feel free to check those out! Over on Instagram, I use the Stories feature regularly to give people tips and a glimpse into our everyday lives. I try to share inspiration for family-friendly meals, juicing recipes, gardening, hiking, gentle parenting, ideas for developmental children activities and share my favorite eco-friendly non-toxic & organic products on the market.
Do you have any new initiatives going on?
Just continuing to share inspiration through my website and social media accounts and hoping to help more people throughout the world! Of course, my child keeps me busy, that's my top "initiative" at the moment! He has helped me expand my interests as well, so I'm always sharing videos of him making recipes or doing other forms of child exploration that promote vibrate living.
Advice you would give to someone who just started juicing?
Play around with different varieties of produce with high nutritional value and find what you like best. The way to achieve a good flavor (especially for green juice) is to balance your greens or bitter produce with sweet vegetables and fruits. My favorite sweet balancers are pineapple, apples, grapes, beets and carrots.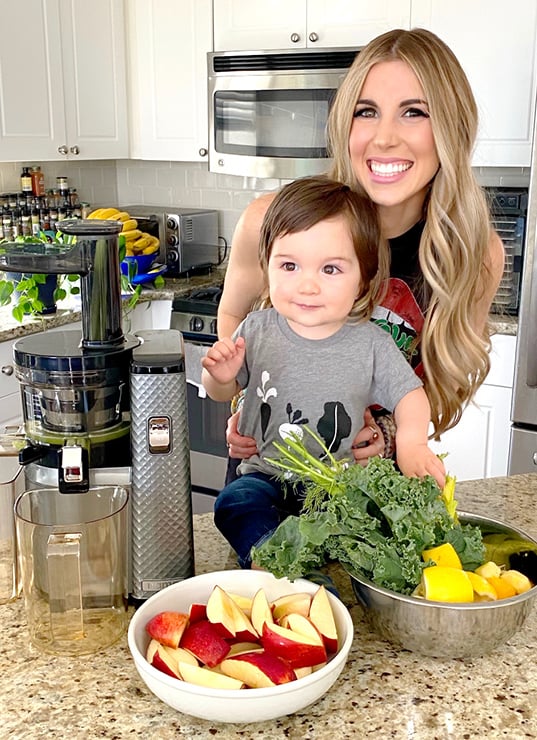 The best way to teach is through experience!
Advice you would give to an advanced juicer that is looking for something different?
Try adding different herbs into your juice as well as produce with unique flavors such as dandelion greens, daikon radishes and even garlic!
How do you make sure your produce doesn't go bad?
If you are buying large quantities of fruit, I highly recommend buying a rack to store your fruit on. This way you can be organized and save a ton of counter space when storing your food. I also recommend inspecting and rotating your produce. Every day or other day, depending on the type of produce, check how the food is ripening or staying fresh. Place the produce that is older or the most ripe towards the front of your rack or refrigerator and the fresher produce towards the back. This way you can ensure that your food doesn't go bad. Sometimes I like to put the older produce on the top or middle shelves of the rack or refrigerator and the fresher produce on the lower shelves. This way I know what needs to be eaten first. The fresher your produce is when you consume it, the more nutrients you will be getting into your body. Try playing around with these two methods to see which one works best for you.
When storing berries on the other hand, you always want to store them on the top shelf in the refrigerator by the vent so they are getting cold air. Make sure nothing is covering your air vent so there is a good air flow in your refrigerator. Freezing and juicing are great ways to make sure you are saving not only the produce but your money. Freezing your produce is excellent for making smoothies, sauces, broths or steamed vegetables. Juicing is a great way of getting loads of vitamins and minerals into your body and can maximize the amount of produce you can consume before it goes bad. When in doubt, juice or freeze your produce to save it.

Choosing a selection results in a full page refresh.
Press the space key then arrow keys to make a selection.