Nama Cold Press Juicer

Vitality 5800
$399.00
The Nama Cold Press Juicer makes delicious and nutrient-rich juices, smoothies, plant-based milks, and frozen desserts. It is easy to clean and safe for the entire family. The Nama Cold Press Juicer produces more juice with better flavor in less time. Time to get juicing!
Key Features
More Juice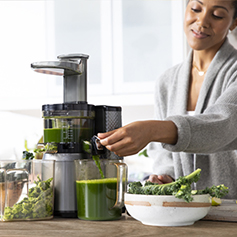 The Nama Cold Press Juicer yields up to 60% more juice from the same amount of ingredients than with conventional high-speed juicers.
Better Flavor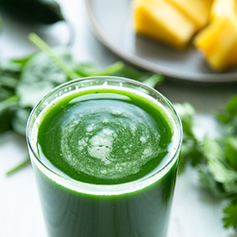 The auger's slow pressing speed of 43 revolutions per minute keeps nutrients and flavors intact by minimizing oxidation and heat generation.
Less Time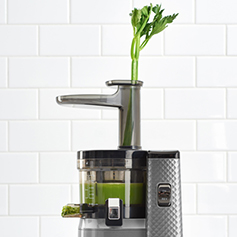 Spend less time chopping and prepping ingredients thanks to Pure Press Technology™.
Pure Press Technology
™
Our solution to juicing whole produce that can fit into the chute, like carrots, celery and kale, without cutting into small pieces. It's our perfect balance of torque, speed, and filtering.
Torque
Speed
Filtering
Enjoy juices, smoothies, plant-based milks and sorbets.
The Nama Vitality 5800 Cold Press Juicer comes with three strainers allowing you to make much more than juice. Also included: a recipe book, pulp and juice container with lid, a manual, a quick start guide and a cleaning brush.
Reviews
Our Reviews
Watch two of our favorite in-depth reviews below and find more in our Journal section or browse customer review listing.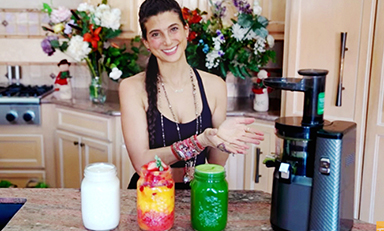 "Juicer quality matters! With a Nama Cold Press Juicer you will get more juice, less oxidation, better taste and save money."
2,080 Reviews
What People Are Saying:
I am in love with this juicer! I've encouraged everyone I know who is interested in juicing to invest in one!
Excellent juicer! Easy to assemble. Easy to use. Very quiet. Great multifunction.
Awesome! This juicer is great. I love using it. Cleanup is easy. I actually look forward to using it.
Works great! Produces the most possible juice, whether it is fruit or vegtables.
ADDITIONAL Benefits
1
Easy to Clean
2
Free Domestic Shipping
3
10-Year Warranty
4
Interest-Free Payments with Affirm
5
Safe for All Family Members
6
User Reviews: 4.86 Star Rating
1
Easy to Clean
2
Free Domestic Shipping
3
10-Year Warranty
4
Interest-Free Payments with Affirm
5
Safe for All Family Members
6
User Reviews: 4.86 Star Rating
Nama Philosophy
The Nama Team
We help nurture wellness rituals through connecting with food, nature and our communities. We designed our site to provide inspiration and information for your exploration and are always working to serve you better.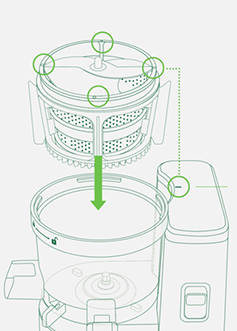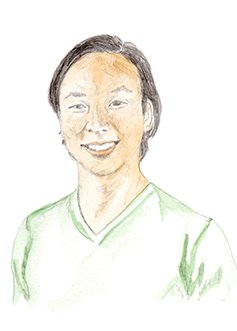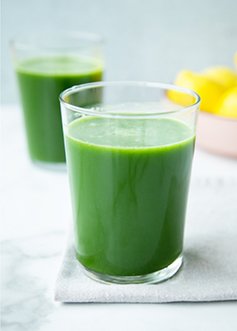 Product Details
Juicer Base
Chamber
Hopper
Spinning Brush
Auger
Juice Container
Juice Container Lid
Pulp Container
Juice Strainer
Smoothie Strainer
Sorbet Strainer
Pusher
Cleaning Brush
Recipe Book
User Manual
Quick Start Guide
Our materials are food safe and BPA-free
Hopper / Cover: ABS
Chamber: Tritan
Auger: PEI (Ultem)
Juice / Smoothie Strainer: Stainless Steel, Ultem
Sorbet Strainer: BISEN
Juice and Pulp Container, Lid: ABS
Speed
Drive / Auger: 43 rpm
Spinning Brush: 17rpm
Speed Control
Toggle switch for one rotational speed; ON is juicing; REV is reverse rotation of ON.
Outward Product Dimensions
8.8 (W) x 7.1 (D) x 16.0 (H) in
232 (W) x 203 (D) x 407 (H) mm
RATED - VOLTAGE, FREQUENCY, POWER
POWER CORD LENGTH
4.6 ft - exposed length
1.4 m - exposed length
Safety Switch
Built in magnetic safety switch automatically cuts off power when the hopper not in correct position
CONTAINERS AND CAPACITY
Juice Container: Measurement lines up to 35 oz. and 1000 ml; max capacity is 40 oz. Pulp Container: Max capacity is 60 oz. Juice Container fits inside piulp container for easier storage
Free Shipping! We happily offer free domestic ground shipping on all orders within the 48 contiguous US states. Expedited shipping is available to most regions. Hawaii, Alaska, US Territories — We offer our discounted shipping rates through FedEx and UPS without any mark-up on our end.
International Shipping
We have partnered with DHL to offer our lowest cost and quickest delivery to our international customers. Please note: Import duties and taxes are not included in the shipping price. All international orders are subject to the receiving country's import fees, duties and taxes, which are paid to and set by your home country's government and will be charged by your local postal carrier (DHL) prior to delivery of your order.
Nama Vitality 5800 Cold Press Juicer product comes with a 10-year warranty on the motor and 2-year warranty on all parts from the date of purchase when utilized for normal and intended household use. If your Nama product has a defect in product material or workmanship or as a result of normal wear and tear from ordinary intended household use within the warranty period, Nama support will repair or replace the defective part. Read More.
We believe you will see the value and feel the benefits of using your Nama Cold Press Juicer every day that we are happy to offer a 30-day satisfaction guarantee trial period. If you are not completely satisfied with your purchase of Nama product(s) from namawell.com, you have 30 days from the date of shipment to return your product for a full refund. Refunds will exclude shipping charges. Please contact us at support@namawell.com for a Return Merchandise Authorization (RMA) number and to initiate our Returns Process. Customers are responsible for the shipping cost of returning products back to us. Read More.
After 4 years of development, our international models are finally available. We currently offer three versions of 230 volt mode which are, United Kingdom Type G plug, Europe Type C plug, and Australia/New Zealand Type I plug. We also offer one 110 volt US Type B plug. Read more.
ADDITIONAL REVIEWS: VITALITY 5800