Introducing
Nama C2 Cold Press Juicer + Blender
Make a cold-pressed
juice and smoothie, all
in one machine
VIEW PRODUCT
OVERVIEW
Juice + Blend Together
The Best of Both in One Machine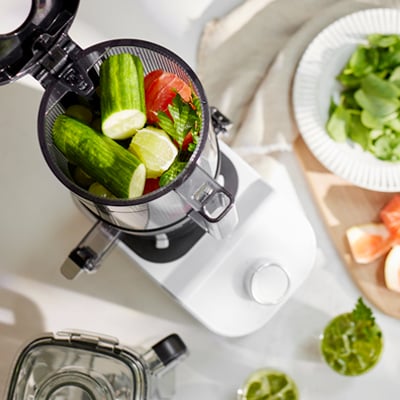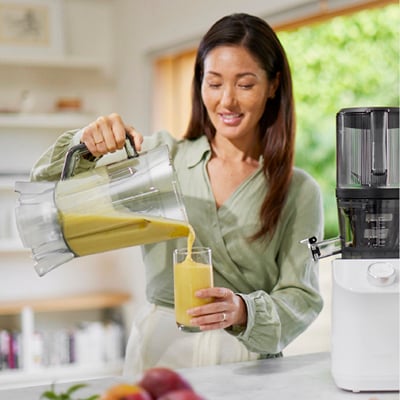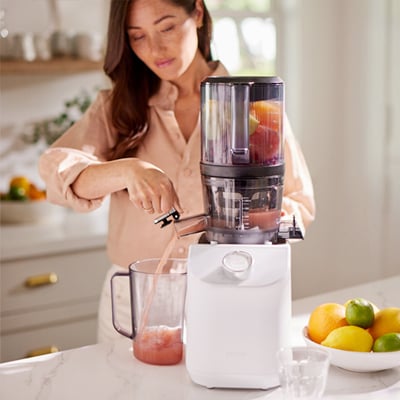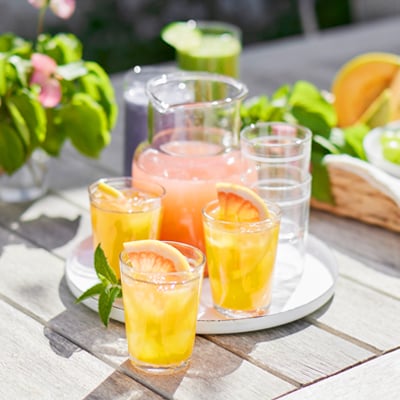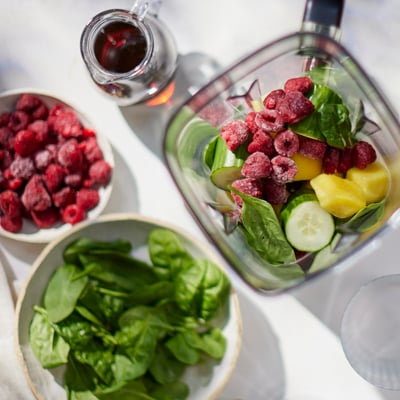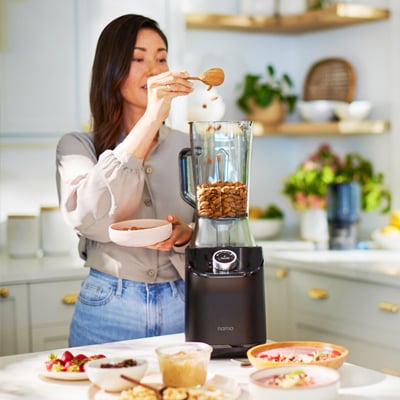 The C2 helps maximize how you prepare your fruits, veggies, and other plant-based foods. Seamlessly switch between slow juicer and blender functions with one single power base that looks great in your kitchen.
The C2 includes everything you know and love about the J2. Load whole fruits and veggies and walk away while the machine uses patented technology to slowly extract the maximum amount of nutritious juice.
Use the C2 blender to power through frozen ingredients with ease. With optional preset programs or manual mode, you can easily make smoothies, soups, sauces, nut butters, crushed ice, or milled grains.
C2 Benefits
MAXIMIZE NUTRIENTS FROM JUICES AND BLENDS
A Cold-Press Juicer + Blender
Enjoy the benefits of cold-pressed juice, smoothies, and other plant-based blends in one machine.
More Fruits + Veggies
Juicing and blending together make it easy to maximize your nutrient intake by consuming more fresh fruits, vegetables, superfoods, powders, nut milks, and more.
Fresh Juice Blends
Create a delicious and nourishing smoothie by making a juice and using it as the base to your blend in place of nut milks or coconut water.
Smart Swap
With one power base that sits nicely on your kitchen counter, you can seamlessly interchange your juicing chamber and blender jug.
Whole Recipe Juicing + Blending
The juicing chamber and blender jug are both designed to cut down on prep time so you can load a whole recipe at once without the need to cut your produce into small bits.
Hands-Free
Get time back in the kitchen by loading your ingredients at once into both the juicer and the blender, turning it on, and walking away.
Easy to Clean
Just like the J2, you can clean the juicer in no time. The blender comes with a cleaning preset so you can add a little water and soap, turn the dial to Clean, and you're done.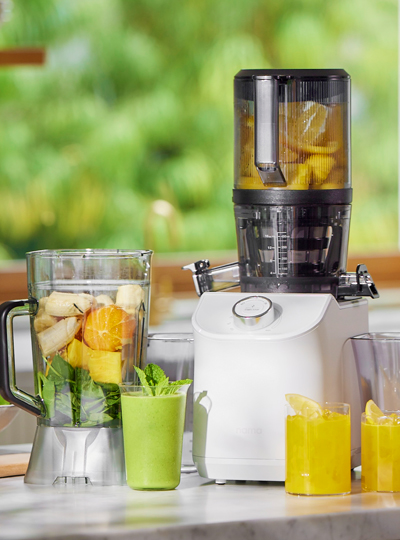 A Cold-Press Juicer + Blender
Whole Recipe Juicing + Blending
WHAT COMES WITH THE C2: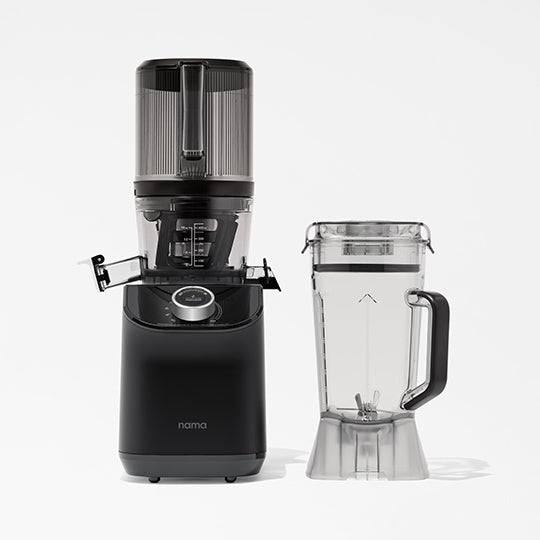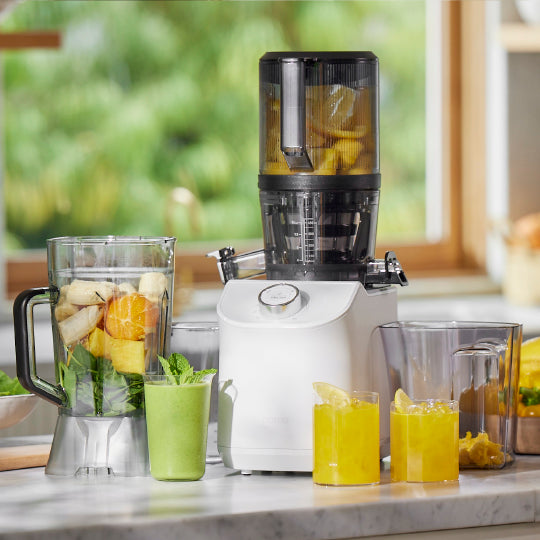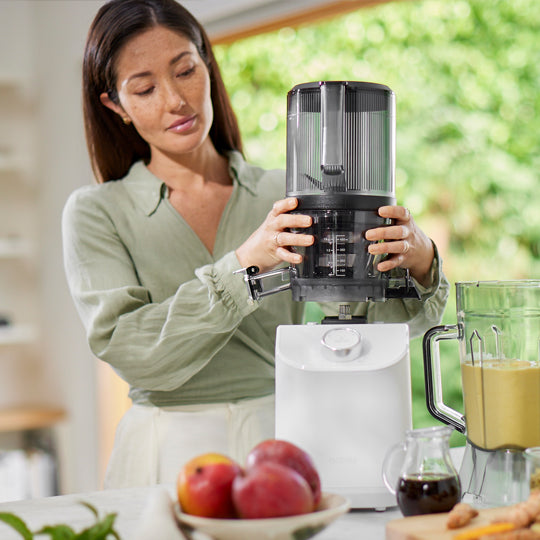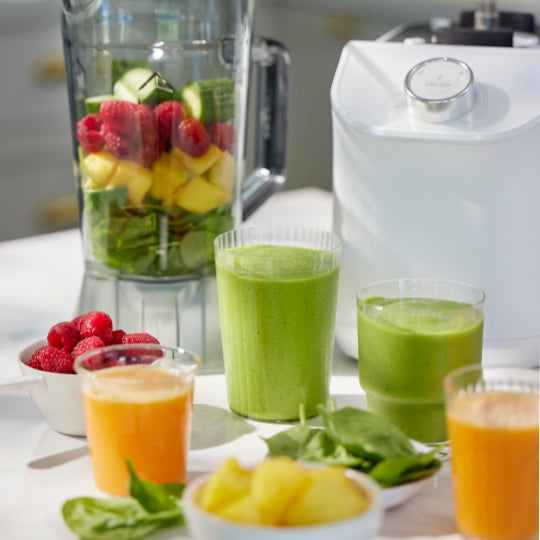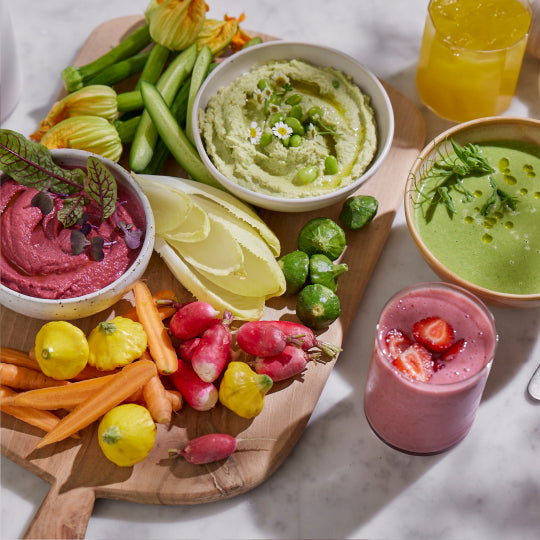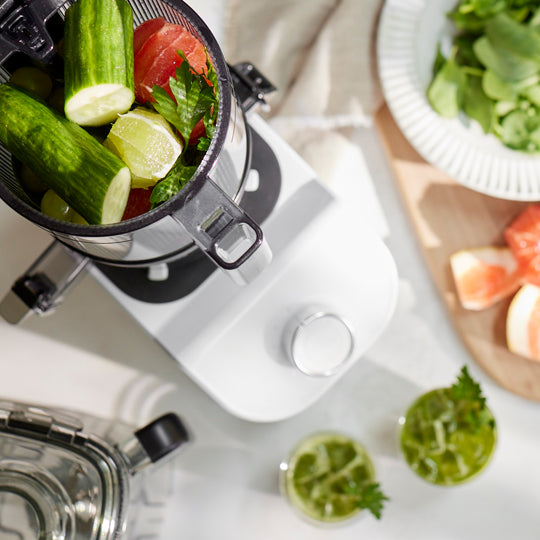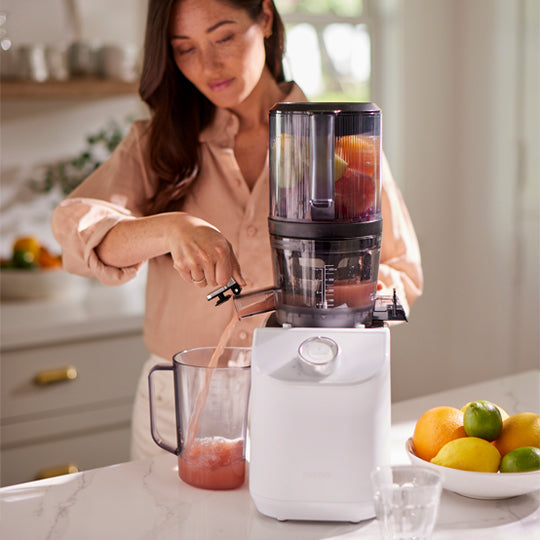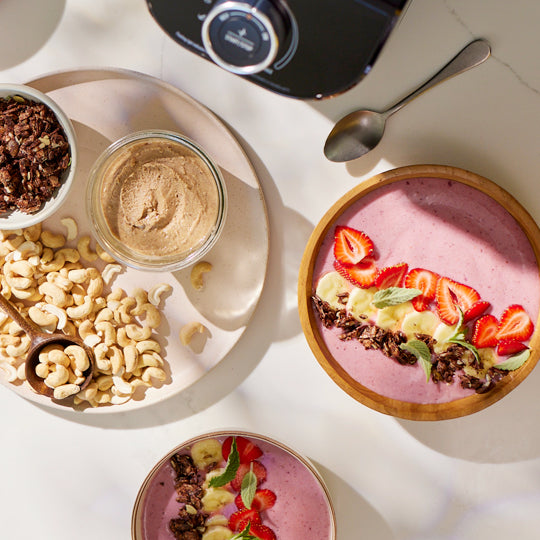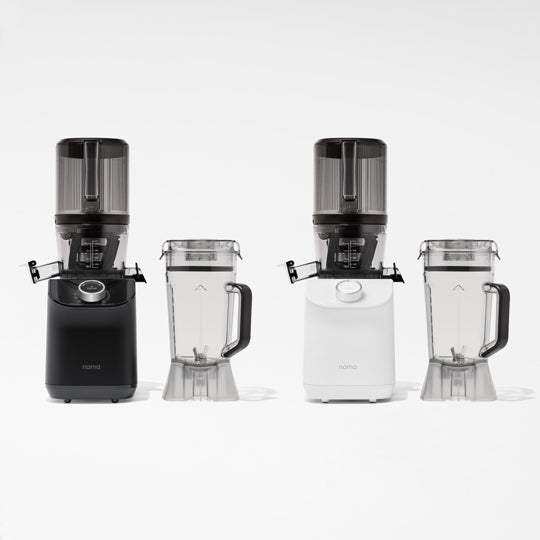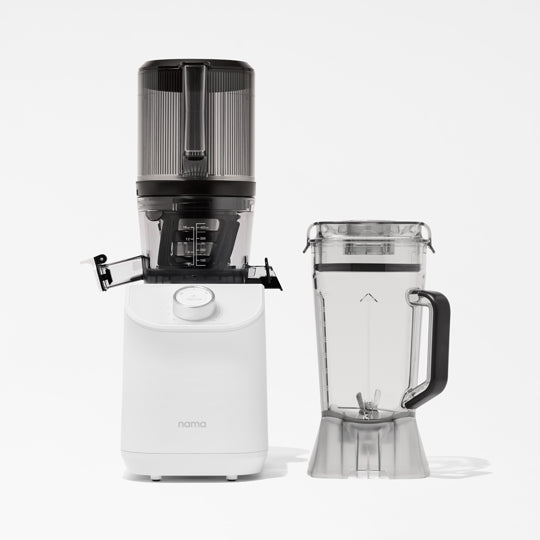 Nama C2
Cold Press
Juicer + Blender
$800.00 USD

Free Domestic Shipping

15 - Year Warranty
Interest - Free Payments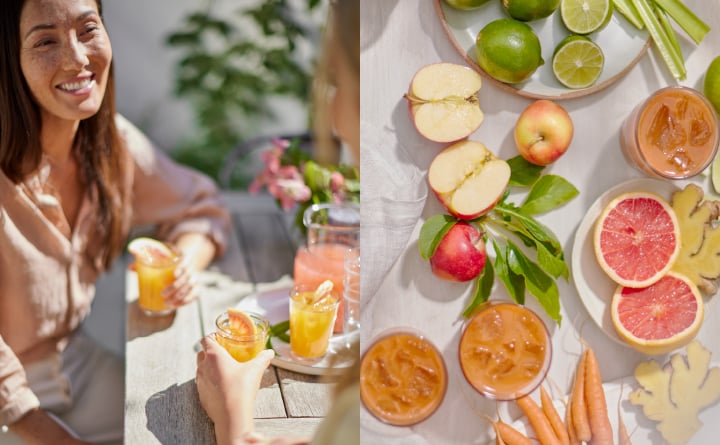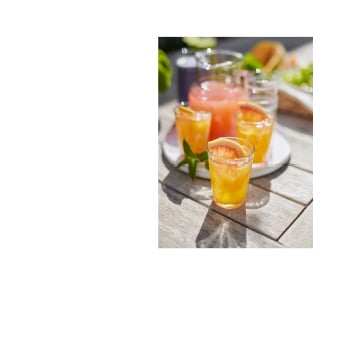 The Power
of Plants
Enjoy
Our mission is to make it easy for you to enjoy the benefits of consuming more plant foods. Juicing and blending are both delicious and excellent ways to empower you on this journey.
Nourish
With the C2, you're optimizing the ways you can consume more nutrient-dense foods. With smoothies, you can add more foods that don't typically go in juices, like adaptogens, powders, and superfoods.
Energize
Consuming more fruits, vegetables, and other plant foods will give you natural energy and make you feel rejuvenated. Make it a daily habit and prepare more juices and smoothies.
Meet the Nama C2
EXPLORE OUR VIDEO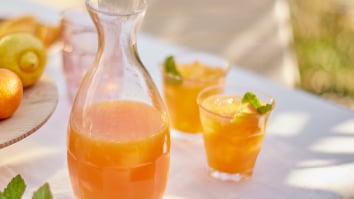 JUICES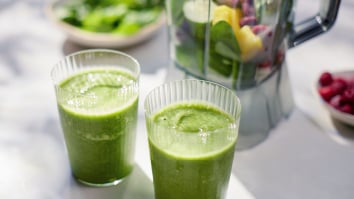 SMOOTHIES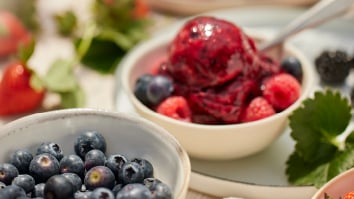 SORBETS
Quick Comparison
SEE OUR PRODUCTS SIDE-BY-SIDE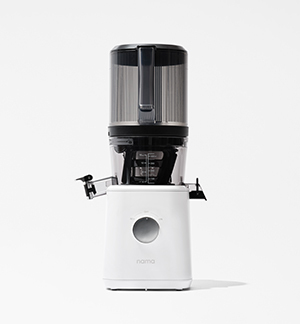 NAMA J2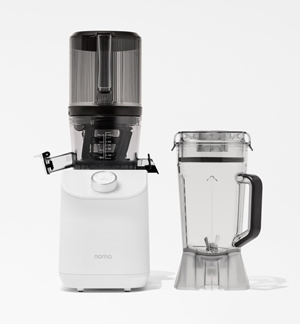 NAMA C2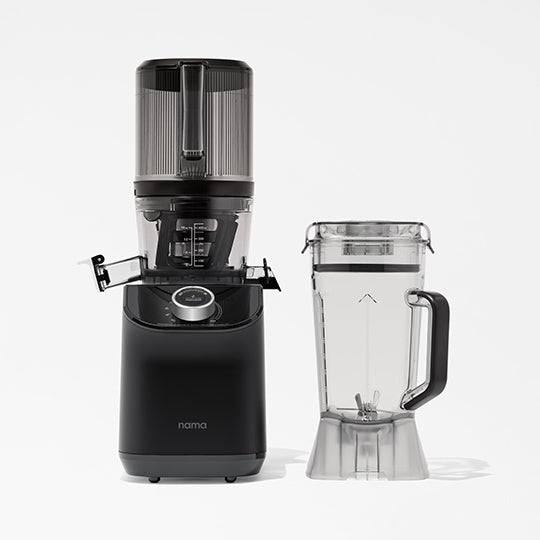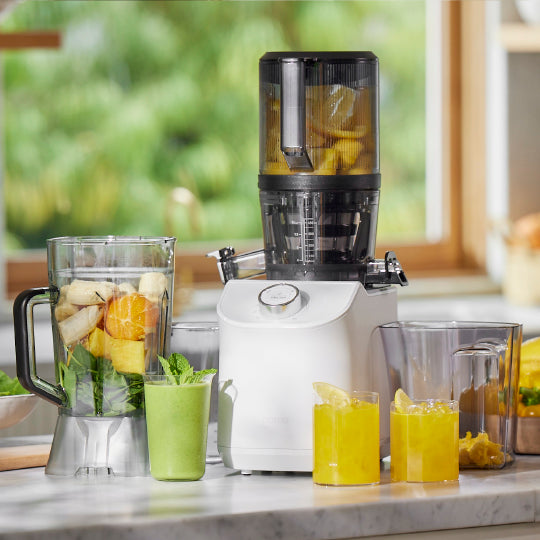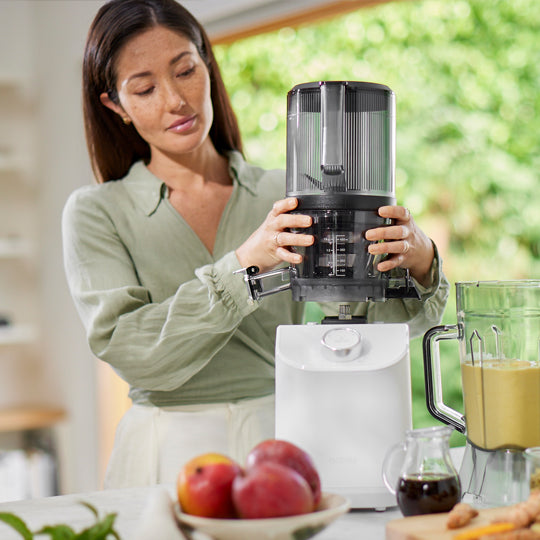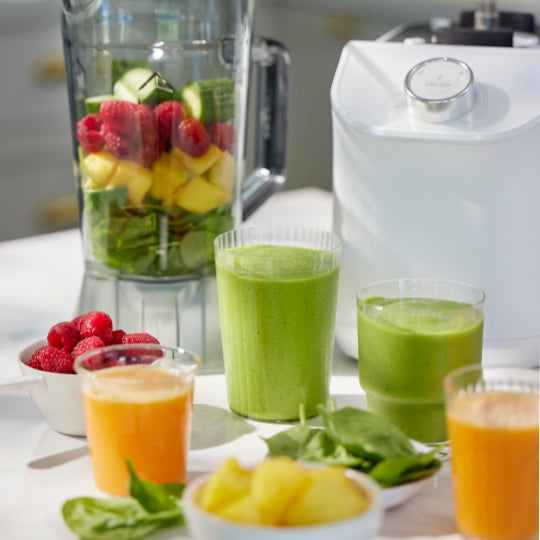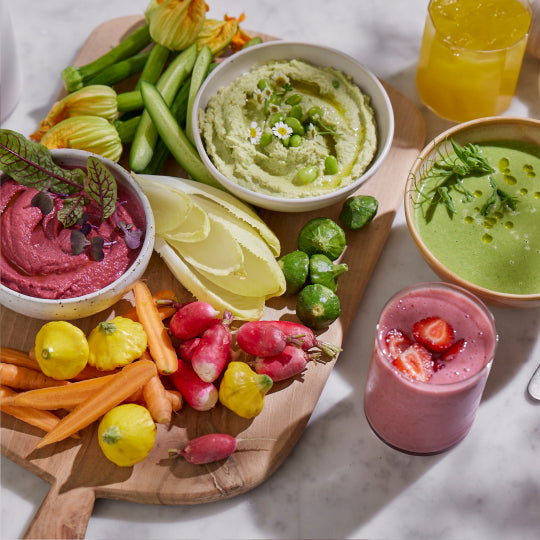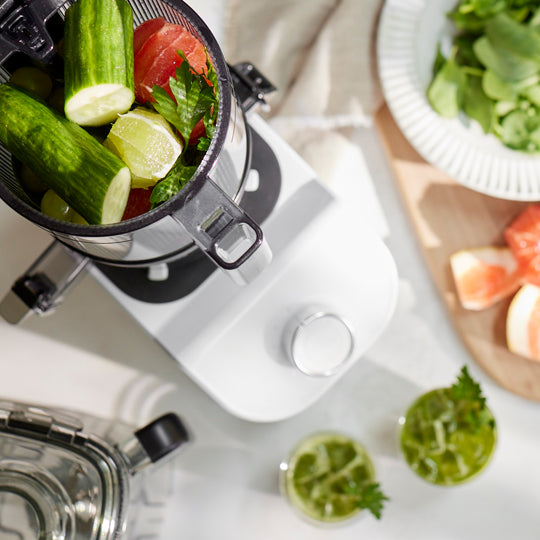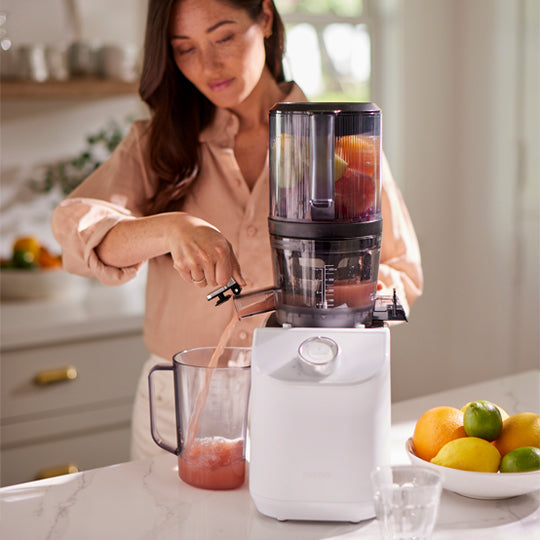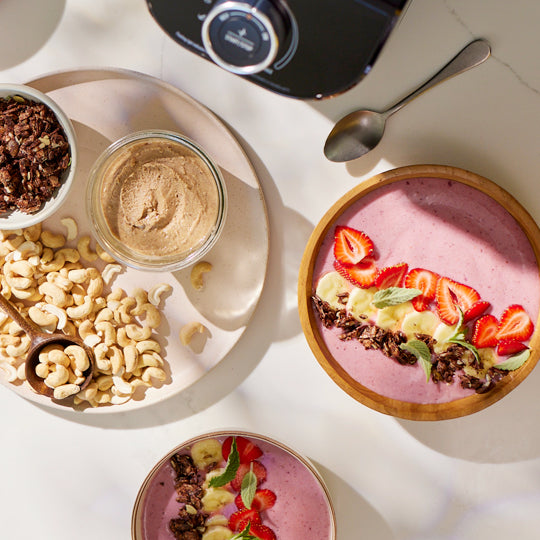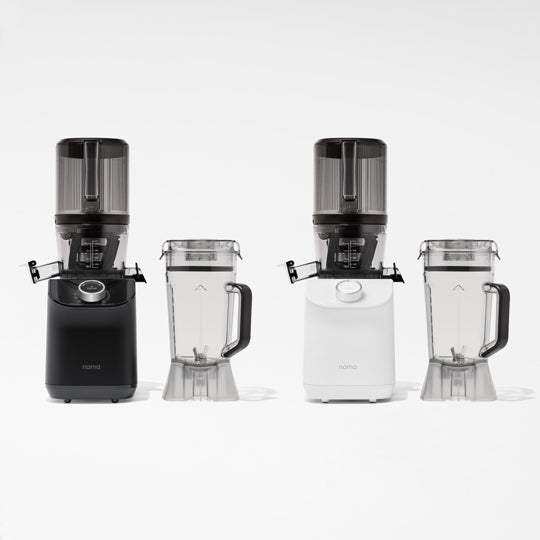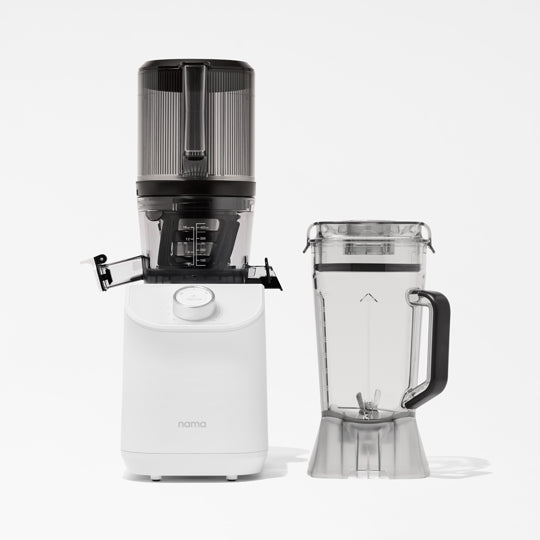 Nama C2
Cold Press
Juicer + Blender
$800.00 USD
C2 Product Details
Base (Motor)
Power Cord (detachable)
Chamber
Hopper
Spinning Brush
Auger
Juice Container
Pulp Container
Juice Strainer
Smoothie Strainer
Sorbet Attachment
Pusher
Cleaning Brush
Blender Jug
Juicer Recipe Book
Blender Recipe Book
User Manual
Quick Start Guide
Our materials are food safe and BPA-free.
Hopper: ABS
Chamber: Tritan
Auger: Ultem
Strainers & Sorbet Attachment: Stainless steel, Ultem
Blender Jug: Tritan
Base: ABS
Product – Cold Press Juicer + Blender
Model Name – C2
Model Number – JB100
Rated Voltage – 120 V
Rated Frequency – 60 Hz
Rated Power Consumption Juicer / Blender – 200 W / 1,000 W
Motor – Single-Phase Induction
Fuse – 250 V 8 A
RPM Juicer / Blender – 50 rpm / 26,500 rpm
Weight Juicer (Chamber Set Included) – 21.0 lbs / 9.5 kg
Weight Blender (Jug Included) – 19.2 lbs / 8.7 kg
Dimensions Juicer – W 10.1in (256 mm) / L 11.6in (295mm) / H 20.0in (509mm)
Dimensions Blender – W 10.1in (256mm) / L 11.6in (295mm) / H 21.0in (534mm)
Free shipping! We happily offer free domestic ground shipping on orders within the 48 contiguous US states. Expedited shipping is available to most regions. Hawaii, Alaska, US Territories — We offer our discounted shipping rates through FedEx, UPS, and DHL without any mark-up on our end.
We have partnered with DHL to offer our lowest cost and quickest delivery to our international customers.
We offer a 15-year warranty for all parts on the Nama C2 Cold Press Juicer + Blender. Read More.
We believe you will see the value and feel the benefits of using your Nama C2 Cold Press Juicer + Blender so we are happy to offer a 30-day satisfaction guarantee trial period. If you are not completely satisfied with your purchase of Nama product(s) from namawell.com, you have 30 days from the date of shipment to return your product for a full refund. Read More.
Nama C2 is only available for 120V countries. International 220V models are not available.